Posted by the Strawboss on April 29, 2014 in
Diatribe
Good ol' Donald Sterling as given us plenty of fodder to clown his silly ass, but none more so than the following excerpt from a deposition:
Sterling: Well, I fool around sometimes. I do. When a girl seduces me and tells me all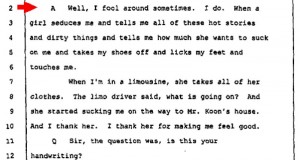 of these hot stories and dirty things and tells me how much she wants to suck on me and takes my shoes off and licks my feet and touches me.
When I'm in a limousine, she takes [off] all of her clothes. The limo driver said, "What's going on?" and she started sucking me on the way to Mr. Koon's house. And I thank her. I thank her for making me feel good.
Lawyer: Sir, the question was, is this your handwriting?
the Strawboss has spoken is laughing his ass off!