Posted by the Strawboss on March 5, 2012 in
My Projects
Here's another Bubbler.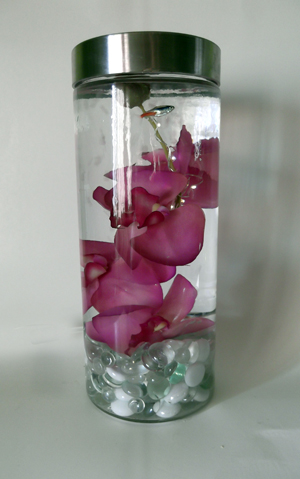 Use a diamond drill bit to drill holes in the glass
Insert rubber grommets into holes and sealed with aquarium sealant
Run tubing through one hole and underwater strand light through other
Seal both with sealant
Leave for 24 hours
Insert artificial orchid into glass then wrap light strand around flower
Fill with glass stones
Attach valve to to tubing and run other end to aquarium pump.
Fill with water
Check for leaks
Let sit for few days
Add Neon Tetras

I have 3 small tetras living in this tank. The lights and bubbles are hard to see, so Imay take a nighttime pic. More detailed instructions with pics to come.

A shot showing the bubbles and lights better.